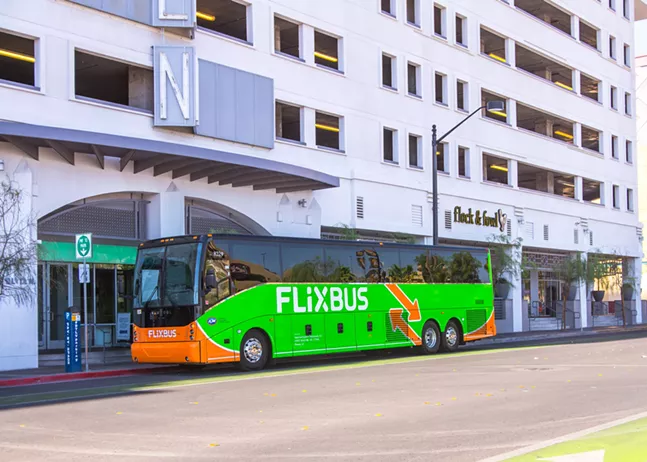 Until now, the only options in Pittsburgh for long-distance ground transportation besides cars have been Greyhound bus, MegaBus, and the sporadic Amtrak train. FlixBus, a bus service originating in Germany, will expand its U.S. service to Pittsburgh starting Thu., Nov. 14.
FlixBus will launch service between Columbus, Ohio, Pittsburgh, and Washington D.C. Unlike other bus services, which usually stop in other areas like State College or Harrisburg, FlixBus is direct. The estimated travel time for a MegaBus trip from Pittsburgh to Washington, D.C., is around six and a half hours, while the same trip for Greyhound is anywhere between six and eight and a half hours. On FlixBus, the estimated travel time is around four and a half hours.

The Pittsburgh addition is part of a larger expansion that connects Philadelphia to D.C., Baltimore, and New York City, though there is not currently a trip between Pittsburgh and Philadelphia. A press release notes that "This will be the first time FlixBus rolls into the Midwest," so that's a win for folks who argue that Pittsburgh is the Midwest.

"We want to show people how inefficient it is to use your car for long-distance trips in the age of high gas and parking prices, traffic, and low mileage leases," says FlixBus managing director Pierre Gourdain in a press release. "The bus provides a convenient and comfortable alternative, one that allows people to work, relax or sleep while they travel and keep more money to enjoy their destination."

Like other bus services, FlixBus has WiFi and outlets. According to the FlixBus website, travelers have the option to click a "compensate trip" button during purchase, which adds one to three percent of your ticket price to the cost and donates it to the National Forest Foundation, as a means of offsetting carbon emissions.

As of today, a one-way from Pittsburgh to D.C. or Columbus on Nov. 16 would be $9.99.

FlixBus will pick up and drop off passengers at 912 Fort Duquesne Blvd., Downtown.