Unlike many of Pittsburgh's Indian restaurants, there's no lunchtime buffet at Masala House Indian Bistro. Instead, the restaurant carries what are called "full meals": Rather than walking down the line of heat-lamp-warmed dishes, diners simply request a refill from the daily menu, a short list of chef-curated dishes served in tasting-style portions. The owners of the restaurant, brothers Suresh Kumar and Prasanna Kumar, and their partner Harjas Sandhu, are calling this experience the first-of-its-kind in Pittsburgh.
Masala House isn't the Kumar brothers' first restaurant. The duo has been running eateries for 15 years, opening their first spot in Canton, Ohio. In over a decade, they've run restaurants in Morgantown, Moon, Mt. Lebanon, Cranberry, and Downtown. Their new spot on Baum Boulevard— the former space of Chaz & Odette — marks the family's eighth venture.
When I arrived for my lunchtime visit, I wasn't given a menu. Instead, the server set down a gleaming tray in front of me, loaded with five silver bowls surrounding a pile of rice and a savory cracker, accompanied by a basket of naan. The "full meal" consisted of eggplant curry, mushroom matar, chicken manchurian, tandoor chicken, dal makhani, pakora, and chicken tikka masala.

In the evening, when a menu is required to order, options include dishes found on typical Indian menus — masala, curry, dal, briyani — along with a slew of items unique to Masala House. For the experienced diner, the restaurant hopes these hard-to-find dishes will bring "nostalgic feelings of home."
This selection of chef specials boasts dishes like gutti vankaya, a South Indian eggplant curry slow-cooked with tamarind, or chettinad, a coconut and poppy seed curry named after a region known for its culinary treasures.
Out of my seven "full meal" dishes, five were particularly memorable. The eggplant curry and mushroom matar were a bit mild for my taste, the eggplant carrying an unpleasant amount of oil. But these shortcomings were quickly overcome by their companions.  
Tikka masala was sweet and tomato-heavy, with pieces of tender, slow-roasted chicken. The dal of the day, makhani, was lush with butter (the name translates to "lentils with butter"). It came out kicking with cinnamon; one bite seemed to hold more spice than the entire platter. 
The Chicken Manchurian, what my server described as like Chicken 65 — a popular, deep-fried, spicy chicken dish "but not" — reminded me of Chinese-style sesame chicken with additional chilis. The tandoor chicken didn't need anything else but flavor from the cylindrical oven; it burst with the richness of the tandoor. My pakora, a fried snack, was a savory sample of traditional street food.

The full meal was the perfect way to experience Masala House's food. It was better (and cheaper) than a buffet, and the options didn't feel like a hodgepodge of everything on the menu. There was a sampling of all sides of Indian cuisine — something mild, something spicy, a touch of tandoor — and it gave the chef a way to add a regional edge to his dishes without overwhelming those new to Indian cuisine.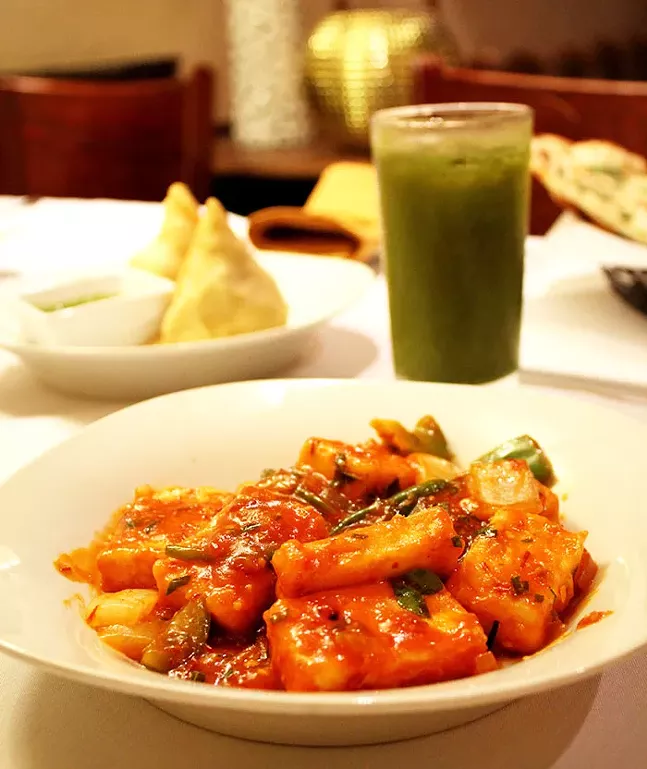 Favorite Features

1. Naan
I love naan and Masala House's didn't disappoint. The restaurant's fresh naan, baked and delivered to your table, is thick, crispy, and perfectly bubbly.

2. Pillows
A wooden bench makes up the majority of the dining room seating and Masala House makes up for the uncomfortable wood with cushions and ornate, gold-patterned pillows.

3. BYOB
Masala House has a small selection of drinks — think chai and mango lassis — but if you want something stronger, it's BYOB.