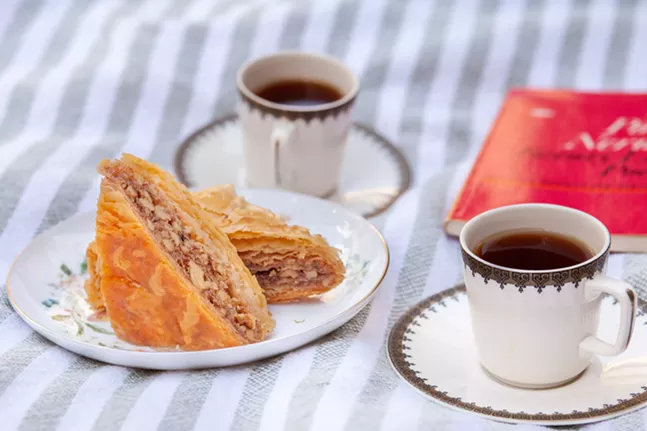 Opening

Bakluva
If you've been craving baklava in quarantine, then this is explicitly for you. Bakluva is a new baklava delivery company, founded by the Neofotistos family, owners of the Main Street Diner in Grove City. The recipe comes from Kelly, matriach of the Greek-American family, and is available in 12-piece or 8-piece orders. Each month, the company will partner will a local nonprofit to donate some proceeds from its sales, and this month, it's Hello Neighbor.

The Coop
After months of anticipation, popular food truck The Coop Chicken and Waffles will open a standalone restaurant on East Ohio Street in the North Side. The restaurant announced the news on Facebook, and is slated to open on Fri., Aug. 14.
Chiang Mai Noodle
The new Thai restaurant, named for the city in Northern Thailand, is now open in Oakland on North Craig Street.

Pane è Pronto
The owers of DiAnoia's Eatery in the Strip District are expanding once again, with a new bread and lunch shop, Pane è Pronto. The shop will be located a few doors down from DiAnoia's, in the former location of Choppin' Block. Expected to open in the fall, Pane è Pronto will have a variety of in-house breads, from sourdough to focaccia, as well as prepared meals, like lasagna or meatballs.

Cares CommuniTEA Cafe
The Centre Heldman Plaza in the Hill District, which is currently empty, will get its first new occupant with Cares CommuniTEA Cafe. The cafe will be located in the spot of the former Crazy Mocha, and, according to the Pittsburgh Post-Gazette, will "use the expertise of Hill professionals to create a learning lab for work experience for local youth." Claudy Pierre, previous owner of North Side's Arnold's Coffee & Tea, which closed in April because of the COVID-19 pandemic, will help run the cafe, along with the Hill District community organization Center That CARES.

Community Market
The Bloomfield Shursave's replacement, a Community Market grocery store, will open on Aug. 16, according to signage outside the store.

Other changes
Bitter Ends Luncheonette
Beloved vegetable-heavy diner Bitter Ends in Bloomfield announced in
an Instagram post
that it is permanently shutting down its dining-in service. The restaurant was last open for dine-in service in March, and will continue to do occasional take-out service and sell takeaway food at Linea Verde Green Market.
Sushi Fuku/Atarashi
Popular Oakland sushi restaurant Sushi Fuku announced recently it would be changing its name to Atarashi. Facebook posts say the name will not effect the restaurant's menu, and that the new name is "an ode to the Japanese word for new and up-to-date."

Seven
Downtown restaurant and nightclub Seven has been ordered to close for a week by the Allegheny County Health Department, due to inspections that found it violated capacity requirements, served alcohol without food, and seated customers at the bar, according to TribLive.